Razom unites various Ukrainian activists throughout the U.S. and maintains a global network of over 2,000 people of diverse background – doctors, engineers, educators, as well as legal and financial professionals.
Dora Chomiak, a native New Yorker, has been active in the Ukrainian-American community in the United States since the 1980s. Dora has been traveling to Ukraine for 25 years and worked for the independent Soros foundation in Kyiv from 1991 to 1992 when she co-founded a media incubator that launched non-governmental news organizations in newly independent Ukraine. She then led a $7 million grant from USAID until 1994 with Internews. Dora has grown businesses through marketing at brands such as McGraw-Hill, Thomson Reuters, and Baby Jogger. Dora holds an A.B from Princeton University and an M.B.A. from Columbia University. She speaks English, Ukrainian and Russian. Dora has been involved in the numerous Razom projects, and is also responsible for the Razom Partnership with Hromadske Radio.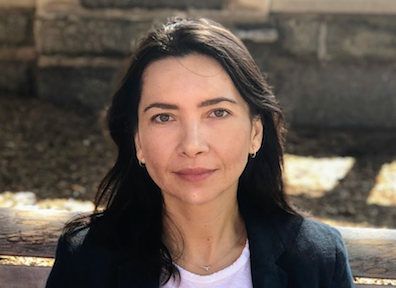 Oksana's passion for supporting the young generation of Ukrainians brought her to Razom in 2016. She has been managing the Razom Partners program and is involved in several projects focusing on leadership, education, and culture. Oksana spent five years in London as a management consultant and over a decade on Wall Street as an equity analyst researching and investing in the consumer sectors. A native of Ternopil, Oksana is fluent in Ukrainian and travels frequently to her home country. She has a BA in Economics from Kyiv Mohyla Academy and MBA from the Wharton School at the University of Pennsylvania.
Zoe Ripecky grew up in the Ukrainian-American community of Chicago. Zoe regularly visits the country of her grandparents and lived in Kyiv during a year-long Fulbright Fellowship focused on Ukraine's energy sector. During that time she partnered with leading Kyiv-based NGO DiXi Group to develop a multilateral energy diplomacy strategy for Ukraine's Ministry of Energy. Upon returning to the US, Zoe got her first gig volunteering with Razom: authoring a chapter on Ukraine's energy sector in Razom's first major congressional report. Since then, Zoe has worked as a project manager in the non-profit sector, consulted companies and investors on ESG and sustainability strategies, and most recently worked as an investment banker at Goldman Sachs. Zoe holds a BA from Vassar College and an MBA and MEM (Master of Environmental Management) from Duke University. She is excited about applying her diverse experiences in non-profits, business, and finance to unlocking the potential of Ukraine with Razom.
Evelina Kurilets
Executive Director of Razom Dlia Ukrainy (Razom affiliate in Ukraine)
Evelina was born, grew up and lives in Ukraine. A graduate of MAUP and KNEU. She worked in the financial sector for a long time. She volunteered all her conscious life, but 5 years ago she completely switched to work on the implementation of charitable projects. At one time, she founded a support foundation for children with scoliosis. As a member of Razom, she volunteered at different times in various projects: Co-Pilot Project, Razom Toy Drive, Save SMA Children, and the Emergency Response. Evelina was elected as an Executive Director of the Ukrainian part of Razom called Razom Dlia Ukrainy (Разом Для України) in 2021, and started in this role in early 2022.
Maria Soroka
VP of Advocacy
In 2014 at the peak of protests in the Maidan, Mariya joined several fellow Ukrainians living in New York City to create Razom, a young, energetic, and progressive start-up which seeks to amplify the voice of Ukraine to an American audience.  An active member of the board, she has been long responsible for organizing cultural events as well as cooperating with government representatives, activists, and various civic groups and human rights organizations in support of Ukraine's quest for democracy. Currently, Mariya is the lead of the Co-Pilot Project, which aims to raise the bar of neurosurgical training in Ukraine.
Mariya is also heavily involved with fundraising for Razom's projects via crowdsourcing, charity events, and online petitions. After graduating from Penn State University with a BA in Advertising and Public Relations and a dual minor in Entrepreneurship and International Studies, Mariya spent several years in Manhattan working within the content marketing industry. She believes in the enormous potential of dedicated volunteers around the world working to rebuild Ukraine one project at a time.
Lydia Kokolskyj
VP of Development
An accomplished leader in nonprofit advancement, Lydia (Lida) is a passionate believer in philanthropy and has dedicated her career to making a positive impact in the world. She has raised over $250 million for many deserving causes and holds a comprehensive background in nonprofit management, institutional and business development, strategic planning, marketing, communications, public relations and events planning.
Lydia was born and raised in New York City where developed a strong sense of civic duty as an active member of the Ukrainian diaspora community. After graduating from Upsala College, she embarked on a journey that provided her the opportunity to serve as an advocate for education, human rights, social justice, and equity. Lydia firmly believes in the power of grassroots initiatives and takes a personal interest in educational, environmental and animal rescue organizations as well as, all that is Ukrainian. She is currently a member of the women's executive group, Chief and serves on the board of the Grand Center for Education and Economic Opportunity in El Salvador.
Dan Solchanyk
Program Director, Razom Heallth
Dan grew up in a mixed Ukrainian-American household and has over a decade of experience leading emergency response teams and effectively managing health programs in some of the world's most challenging conflict and disaster settings, including Ukraine. Dan earned his BS in Human Development from UC Davis and MS in Global Health from the Northwestern. Early on in his global health career he responded to a series of international disasters, offering him invaluable firsthand exposure to the remarkable impact that local organizations can have on their communities in times of crisis. These formative experiences profoundly influenced his subsequent endeavors, driving him to empower local health organizations and humanitarian responders, enabling them to implement sustainable and transformative health solutions. He has also contributed significantly to the academic landscape through the frequent publication of peer-reviewed articles and numerous speaking engagements worldwide. In 2023, he joined Razom as the Health Program Director and is eager to leverage his experience to help enhance the quality of healthcare for all Ukrainians.
Anna Solovei
Program Director, Razom Relief
Introducing Anna Solovei, a finance professional who has recently taken on the role of Program Director at Razom Relief. Anna holds an MBA from London Business School and has garnered valuable experience during her tenure as a director at PwC and as Principal Banker at the European Bank for Reconstruction and Development (EBRD).
Anna's deep connection to Ukraine has driven her to actively volunteer for Razom and the Ukrainian Institute in London. She is an enthusiastic member of the Razom book club.
With a global perspective gained from working in Europe and the USA, Anna brings valuable insights to her role. Furthermore, her dedication to the non-profit sector is shown through her involvement as a board member of two Atlanta-based charities.
Beyond her professional endeavors, Anna enjoys spending time hiking and cherishing moments with her family.
As Program Director, Anna Solovei's wealth of experience, passion for Ukraine, and commitment to making a positive impact makes her a valuable asset to Razom Relief. Under her leadership, the organization is poised to continue its vital work of providing relief and support to those in need.
Olya has been with Razom since the very beginning and is one of the co-founders of the organization. Olya has been very active for years and was a Board member for a while, until she had to put her activism on a pause while finishing her PhD in Molecular Biology from Columbia University. Since receiving the degree, Olya got herself fully submerged in the campaign to save little Dmytryk from Odesa, who was diagnosed with a rare genetic disease SMA. Being one of the most active leaders for the campaign #ДітиМиВстигнемо (#ChildrenWeWillMakeItOnTime), after the required $2million was raised for the life-saving medication, Olya continued with the initiative starting the Save SMA Children project within Razom. The project raises public awareness of the harsh situation of Ukrainian children with rare genetic disease and aims to improve healthcare delivery and access to newly available treatments for Ukrainian children suffering from spinal muscular atrophy (SMA) through official changes in medical support legislation.
Nastia Rab was born and raised in Lviv, Ukraine and currently resides in Wisconsin, not far from the Chicago area Ukrainian-American community where she grew up as a teen and a proud Plastunka.  Nastia gained a degree in Political Science and French from Barnard College in New York City and started her career in tech at PowerToFly, a mission-driven startup in the diversity, equity and inclusion space.  Earlier, Nastia gained valuable experience working at the Council of Europe in France, the Global Women's Leadership Initiative in Romania, and the Athena Leadership Center at Barnard College.
Nastia got hooked on Razom through the Razom IT project, inspired by the incredible ideas and change-makers coming out of Ukraine that the project exposed her to.  She went on to help host the Razom IT Trip in 2016 and Razom IT Speaker Series aimed at amplifying the voices of people from Ukraine in conversations in the US, and to build a community of people in New York who are interested in the intersection of tech and Ukraine.  Nastia helped organize and manage many events throughout the years and later served as Secretary to the board for three years.
Born and raised in Lviv, Maria has started her education in Lviv where she attended Lvivska Polytechnica. While being a student there, she co-founded a local chapter of AIESEC, an international student organization. In the summer of 1994, Maria received a scholarship from Ukrainian Professionals and Businesspeople Association to attend the summer school at HURI (Harvard Ukrainian Research Institute). The following summer, Maria came back to the United States on a scholarship from Cornell University. Maria started her professional career at Goldman Sachs. After her son, Aaron, was born in 2004, she left Goldman Sachs and since pursued a variety of projects in education and culture. Maria has been deeply involved with Razom since 2017 and has been an enthusiastic supporter since 2014 when she attended a concert by Taras Chubai in New York. It is Maria who co-founded and is now managing the Razom Book Club. It's Maria who initiated and built the partnership with the Serhiy Zhadan Charitable Foundation in Ukraine. In her tenure on Razom Board Maria hopes to contribute to unlocking the potential of Ukraine.
Inspired by Razom's impact and bias towards action in productive, dignified and healing ways to support a prosperous Ukraine, Olena joined Razom's volunteer efforts in the first days of russia's full-fledged invasion of Ukraine in February 2022. 
Olena was born and raised in an active Ukrainian-American community in Newark, NJ. As a Fulbright fellow in Kyiv in 2003, Olena worked on agricultural research and remediation programs of villages most contaminated by Chornobyl.  She worked at the Children of Chornobyl Relief Fund (CCRF) for ten years and served as the organization's Country Director in Ukraine, a non-profit organization that worked to develop state-of-the-art neonatal intensive care units at children's hospitals and maternity in every region of Ukraine. CCRF organized and executed continuing medical education in various pediatric specialties, and supported orphanages for children with disabilities.
Passionate about providing the best care and cures possible to children with complex and rare diseases, Olena currently leads fundraising for Seattle Children's Research Institute and has worked to raise major and principal gifts for medical research and transformational healthcare programs for over two decades.
Olena is wholeheartedly committed to Ukraine's future – its thriving medical system, innovative reconstruction projects, and freedom for all Ukrainians.
Nonna Tsiganok was born in Kyiv and is a proud half Ukrainian and half Georgian. She was introduced to Razom for Ukraine while looking for ways to get more involved in the Ukrainian community in NYC. 
Nonna is currently a Senior Vice President at one of the largest PR firms in the world, BCW, in their Corporate Affairs practice, with a focus on driving media strategy, corporate reputation, executive visibility, events, thought leadership, and leading award-winning campaigns on behalf of her clients.
She has been bringing her expertise to Razom across PR, media training and media relations.
Throughout her decades plus long career, Nonna has worked on a number of clients in virtually every industry including consulting, professional services, food and beverage, tech and retail and across major brands.
Nonna graduated cum laude from the S. I. Newhouse School of Public Communications at Syracuse University with a Bachelor of Arts in Public Relations and Writing.
Former board members:
Anna Shpook
Viktor Berezyuk
Makar Kobylinskyi
Ivanna Bilych
Bohdan Pechenyak
Anastasiia Rybytska
Bohdan Polovko
Natalia Shyrba
Tetyana Dzhula
Daria Ozimko
Yulia Paslavska
Olya Yarychkivska
Anya Sobolevska
Iryna Mazur
Oleksii Prokopenko
Lyuba Shipovich
Dmytro Kavun
Mariya Soroka
Oksana Falenchuk
Maryna Prykhodko
Dora Chomiak